Supporting a boss who is not doing well is hard.  In fact, with my coaching clients, having an ineffective boss is in the top 5 list of the most difficult of situations for them.
 
There are so many ways to evaluate bad "bossing" that I would like you to consider. Before you dismiss that "boss person" altogether, several factors could be at play.
 
A client of mine talked to me about an exercise she had done with her team.  Her team listed the characteristics of good bosses and characteristics of bad bosses.  She realized that her boss was pretty awful and it wasn't just her "opinion" that was running her negative reactions.  That was excellent information for her (and the team) because now she could make decisions about how to more easily deal with the real issues.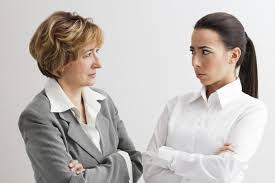 So what are the characteristics of a good boss/leader? 
 
Characteristics on the good leader/boss list: 
Clear and frequent communication
One on one interaction so you know where you stand
Support during issues or mistakes
Guidance for growing your skills and talents
Listening
Trusting and respecting you especially during difficult times
Making time to hear you and your ideas
Timely feedback on issues and especially during times of you
being brilliant
Congratulations and giving you credit for good ideas
The best merit increase the organization can support
Introductions to management and industry ideas and standards
Challenging you to take career "next steps"
Providing learning situations like conferences, webinars,
conferences, coaching
I am sure you have even more to add……….. 
"Wow, Natalie I want that kind of boss."   Me too.
 

My point is that if you have an expectation of your boss, client, BOD to be these kinds of people, are you operating at this level yourself??
 
We are less critical of others when we walk and operate in the of the shoes we expect others to walk in. 
 
Are there bad bosses?  You bet.  I have met many and coached even more.  People can learn (and change) when they know what it is they are doing does not meet the criteria of what is needed.
 
When I was a boss outside of owning my business, I had some pretty high standards (maybe even expectations of perfection) for my bosses.  My first coach pointed this out to me and it was a critical turning point in how I operated as a leader.
 
If I expected it and judged it, I better be as good as I wanted others to be.
 
Reasonable and fair expectations teaches us to be fair and also to operate at the levels of expertness we want to operate at ourselves.
 
Read the list again.  How is your leadership list if we did one on you? 
 
This is just a reminder to you that leading can be tough.  Maybe it might be better to support your boss in learning to be a better leader and learning how to lead you then criticizing and judging. 
 
Or as a nicely spiritual person reminds all of us…
 
"There, for the grace of God, go I". 
I would be delighted to help you end your year on a professional and personal high and get you ready for a remarkable and successful 2018.  Two months to go!!
To Your Success,
P.S.  I have only 4 VIP days left in the year…just for you.  We get together for dinner the night you arrive in Nashville and then spend the entire next day reviewing what is working and what is next for you.  It is fun, demanding, exhilarating, revealing and life changing.  You deserve this time and review.  You will find out where you are in life…how you are…the next steps for you that are clear and absolutely possible for you to achieve.  I would LOVE to work with you.  Just write me a note and tell me you are interested and we can have a call to discuss YOUR details of your VIP with me.  You deserve this time and clarity!!  Now that I have announced these days, they will be filled quickly.  Two are in November and two are in early December.  Get your choice today!!