It was a privilege and honor to meet Jim and Sandy at the Chinese Buffet during my travels. Sandy started to walk by my table as she was coming into the restaurant and I asked her if she would like to join me. It looked like she was by herself.
 
She said "no thank you, I am here with my husband. He is out parking the car".
 
5 minutes later she was back with her husband saying that joining me would be lovely.
 
And now you get to learn all about my new friends, Sandy and Jim.
 
Sandy is 85 with her PhD in advanced math. Jim is 82 (apparently likes older women) with his PhD in physics.
 
Both taught undergraduate and graduate students at two different universities. Case Western being one of them. (Pretty good school, that one).
 
Both met each other while teaching. They both had been married before and their kids were off in their lives doing well.
 
After 6 weeks of knowing each other, Sandy asked Jim to marry her. She told me, "why wait when you know you have found your soulmate"?
 
Currently they have been married for 43 years to each other. The warmth between them created instant admiration from me.
 
Both are in really good shape and Sandy's hair is in an enviable cute style…thick and only slightly gray. I asked her about it and she says that she just showers and tosses her hair. Nothing more. (I know gals, total envy).
 
Jim is slim with a huge infectious smile.
 
I asked them what they do with their time now that they are retired and the answers are also enviable.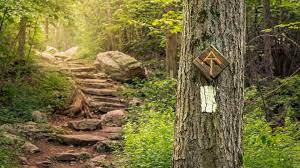 Jim volunteers with the Appalachian Trail (AT) and helps run the yearly reunion of all the AT completers. He also spends a good deal of time cleaning the AT and making sure that it remains viable and challenging. His face lights up when he talks about the AT. He has walked it 4 times. Remarkable and amen.
 
Sandy tracks tennis. She apparently earlier in her life she was an astounding tennis player herself. Right now she knows, truly knows, all the stats and all the tournaments from around the world. She keeps a spreadsheet of the tennis pros achievements (and their training). She also follows college tennis up and comers. You can probably find her in front of a game at all hours of the day and night. Setting her alarm to watch a match is part of the enormous gratification she gets from following the pros and almost pros.

 
So you know I had a great dinner and time with these two. They are exactly who I want to be when I grow up. And I know you would have enjoyed getting to know them also.
 
Excited to be alive. Great careers. Caring about each other and the world. Passion for their chosen hobbies. Communicating easily and fully. Other than a cane to help with her recent physical therapy appointment, both of them are "in the world".
 
I am sharing these pieces of information with you so you can see where you can be when you get to the ripe old age of _________. Just pick an age and understand you can be viable, healthy and happy. There is not much information on media about being healthy and happy at any advanced age.
 
Understand, they choose to be viable and healthy and happy. They chose to sit with a stranger at dinner, me, because it sounded interesting and they were invited.
 
I will never forget Sandy and Jim. A simple yet provocative story of two lovely "elders" in love and having a good life…probably a great life since they still consider each other their soulmate.

 
In my coaching with my beloved clients, the struggle sometimes can be that you are allowed to design your life – but how do you do that? What is most important to you…really? Do you even know? Would you like to find out and then follow the path of you, as a remarkable person, following your chosen life?
 
Call me. Email me. Text me. Let's discuss what is most important to you and then put together a timetable to design that remarkable you and your life.
To your success,